Get The Best Pomsky Puppies In NJ!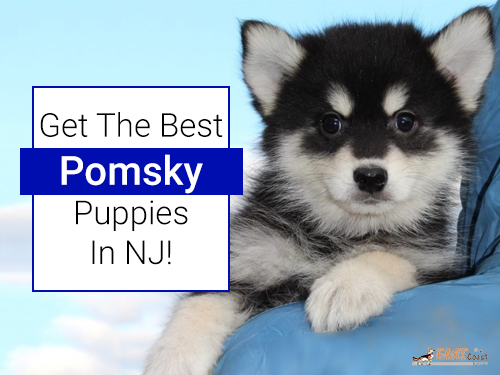 Puppy Love is extremely beautiful. When you have a puppy, you want to go home and love it everytime and everyday. Are you a pet lover and looking forward to buy a new Pomsky puppy in New Jersey? If yes, then you are at the right place! East Coast Puppies aims to provide affordable Pomsky puppies for sale and puppy supplies all over the United States depending on the seller's and buyer's preferences. We are here to serve as a platform where a seller can list his puppies for sale and buyers can check out their ideal pups – both at affordable rates! You will get a wide selection of different breeds of puppies from various breeders and we make this online too so that the whole process becomes more user-friendly, convenient and accessible for our customers. One of the best breeds is "Pomsky Breed" which is a cross between a Siberian Husky and a Pomeranian. This is also referred to as a designer dog breed. This breed is comparatively fluffy and cuddly type, but there is a lot of variety in these dogs! If you're living in NJ and like to buy a Pomsky, then we can definitely help you to find your new family member.


Here are some of the Facts that will help you out if you want a Pomsky puppy!


They are fluffy and cuddly and come in a variety of colors like grey, white, black, etc and are extremely cute and good looking. But don't just buy a Pomsky because of its looks because the responsibilities that come with owning it are little hard if you get one that has specific needs.


The Pomsky puppies are good natured and playful, gentle with kids and very lively. They are good learners and are generally quiet.


The breed is a little expensive as compared to others because the parent dogs are of different sizes and therefore the breeding is done artificially. Also, these Pomeranian Husky dogs are difficult to find.


A Pomsky puppy loves to get your attention! These dogs are completely adorable and you cannot avoid giving what they want and enough attention to them. Your house would not look boring with this playful puppy.


Pomskies are very intelligent, smart and active. Therefore, they require daily exercise and regular play to avoid boredom, as well as weekly if not daily grooming.
If you're a dog lover, then this breed is surely for you and can wow you! That's why
Pomsky puppies
have started gaining popularity nowadays! East Coast Puppies carry the greatest selection of loving Pomsky puppies for sale in NJ. We provide a great platform for the breeders to reach customers, and also to our customers who want the best breeds! With us, you experience an inexpensive way to list your puppies for sale. We do everything to make the whole process as easy as possible for you and your pet. We pride ourselves in ensuring a positive experience for our customers!
Some of the benefits you can avail if you wish to list your puppy for sale or buy a new one:
Our website is totally secure and we do not share your personal information with anyone.


We provide the best customer service in the industry by taking care of their needs and matching the best puppy according to their requirements.


We work with the best breeders to bring you a healthy, happy and well groomed puppy.


We ensure you have all the information you need to know about your pet from feeding to training and grooming knowledge that is required to take care of your new puppy.
Hurry up or you'll miss out on our puppies! Contact us by calling us at 973-652-7758 or filling in our form online if you have any questions or concerns. We're glad to assist and guide you in our buying and selling process. We'll help you understand things out and set you up with the best Pomsky puppy in our store!